What a place The Colony Room Club must have been! We sometimes hear about these bars and hangout spots where artists used to drink and make history - think Bricktop's in Paris, or the Cedar Tavern in New York - but this particular place seems to have been a bar last, and a cultural barometer, and everything else, first.
In London, Bohemia lived at 41 Dean Street in Soho, at "the most infamous drinking club" in the city. Founded by Muriel Belcher in 1948, The Colony Room Club gathered a variety of characters from the British arts and culture of the times. Among its first and most important members was Francis Bacon, arguably Belcher's favorite customer whom she called "daughter" and who called her "mother" in return. With them at the bar of the tiny room sat the likes of Lucian Freud, Frank Auerbach, Peter Blake, Henri Cartier-Bresson, and Alberto Giacometti, while later guests included some of the most famous YBAs, Tracey Emin, Damien Hirst, Sarah Lucas.
There, in the mist of booze and cigarette smoke, these figures conversed, fought, argued, confessed, courted, complained, celebrated, made out, made art. And not just art - The Colony welcomed poets, painters, writers, tailors, sailors, editors, African chiefs, lords, landowners, barrow boys, musicians, singers, strippers, stageheads and petty crooks. Even David Bowie, William Burroughs, and Princess Margaret could sometimes end up there! Days and tabs seems to have run long, creating an atmosphere like no other until one day, in 2008, The Colony Room Club closed its doors permanently under its third and final owner, Michael Wojas.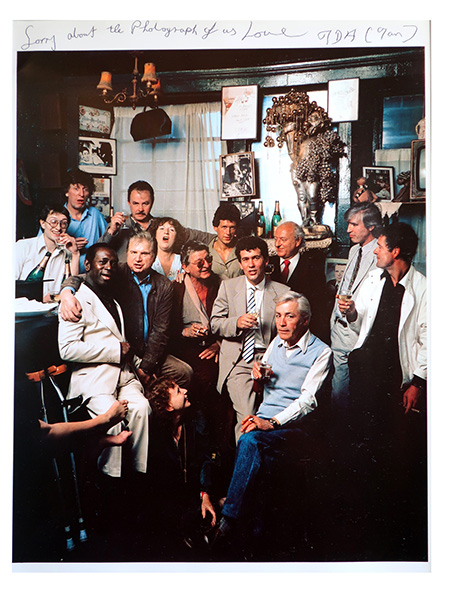 Tales from The Colony Room Club
The Colony Room Club was "viewed as a tiny green oasis by some and a blurred drinking hellhole by others," writes Darren Coffield in his book about the bar, titled Tales from The Colony Room Club: Soho's Lost Bohemia. An artist himself, Darren ended up there as an art student in the late 1980s with his former sparring partner and fellow artist Joshua Compton, after hearing about it in Francis Bacon's book of interviews, Brutality of Fact. The Colony's second owner, Ian Board, gave him the pass to this exclusive place, and an opportunity to witness, and drink with, some of the greatest minds of British modern art.
Twelve years after The Colony Room Club's closure and more than three decades after he first set foot there, Darren Coffield's book tells the wonderful tales of the infamous bar. It also comes to accompany an exhibition he curated at London's Dellasposa, which will include the art and the photographs of more than 70 artists associated with The Colony.
What was it like at The Colony Room Club? What are some of the most interesting things that happened there? Why did the bar close? What can we see on view in London? About this and more, we talk to Darren Coffield in the latest edition of Widewalls Podcast.
Have a listen below!
For more Widewalls Podcasts with art professionals, visit our dedicated page or follow Widewalls on SoundCloud!
The Tales from the Colony Room: Art and Bohemia group exhibition is on view at Dellasposa in London from 15 September until 20 December 2020.
Editors' Tip: Tales from the Colony Room: Soho's Lost Bohemia
Tales from the Colony is an oral biography, consisting of previously unpublished and long-lost interviews with the characters who were central to the scene, giving the reader a flavour of what it was like to frequent the Club. With a glass in hand you'll move through the decades listening to personal reminiscences, opinions and vitriol, from the authentic voices of those who were actually there. On your voyage through Soho's lost bohemia, you'll be served a drink by James Bond, sip champagne with Francis Bacon, queue for the loo with Christine Keeler, go racing with Jeffrey Bernard, get laid with Lucian Freud, kill time with Doctor Who, pick a fight with Frank Norman and pass out with Peter Langan. All with a stellar supporting cast including Peter O'Toole, George Melly, Suggs, Lisa Stansfield, Dylan Thomas, Jay Landesman, Sarah Lucas, Damien Hirst and many, many more.
Tales from The Colony: The Lost Bohemia of Bacon, Belcher and Board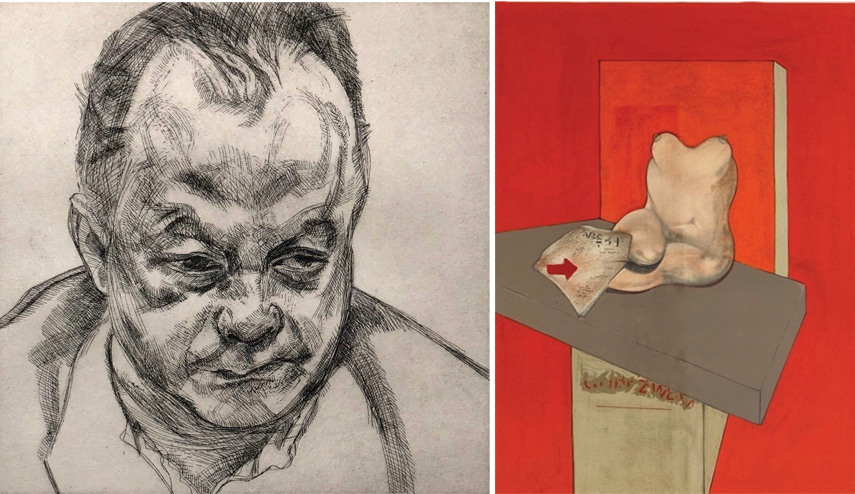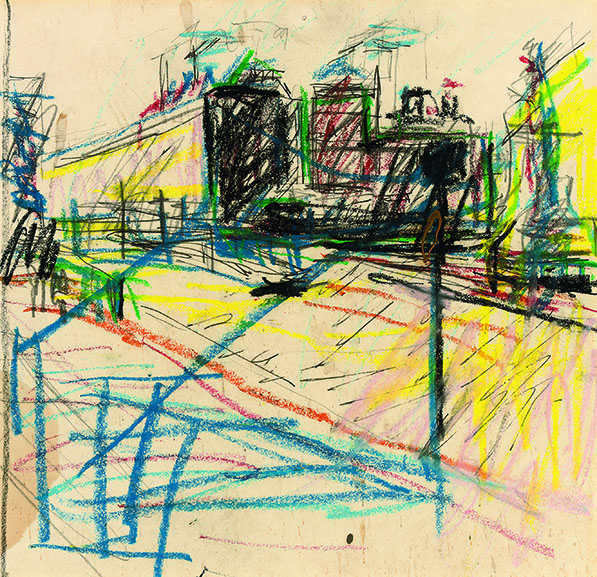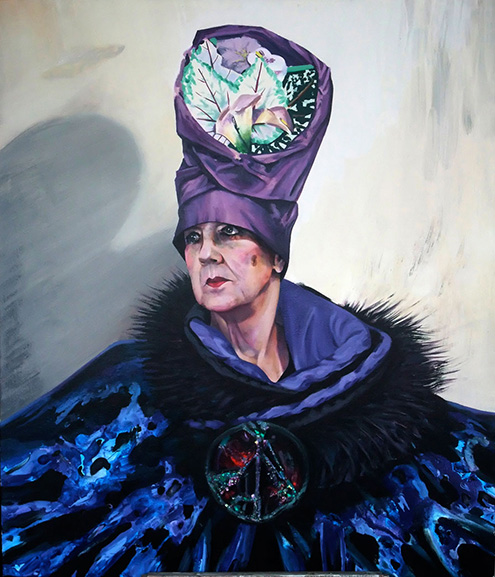 Darren Coffield - Molly Parkin. Acrylic on canvas, 1030 mm x 1200 mm. Courtesy the artist and Dellasposa
Featured images: Amelia Troubridge, Michael Wojas hoovering at The Colony Rooms, 2008, Giclée digital archival print, 16 x 12 in. © Amelia Troubridge. Courtesy of Dellasposa Galley; Alyson Hunter - The Colony Bar; Colony Room Club Door; Atmosphere at The Colony Room Club, Jeff Koons; Sarah Lucas and Damien Hirst, courtesy of Darren Coffield; Henri Cartier Bresson - British painter, Francis Bacon. 1971. Courtesy of Darren Coffield.